High Quality SUNYO Plastic PVC Film and Sheet
What PVC rigid sheet film SUNYO Plastics offer?
SUNYO is a leading manufacturer of rigid and semi-rigid PVC plastic film and sheet from China. We offer a width range of options in terms of thickness and width. Thickness can range from 0.15 to 3.0mm. Maximum width is 1250mm. Besides, producing transparent, translucent, opaque film, we can also make color films with best color matching. SUNYO offers special customized treatment, to get PVC sheet or film, with special properties. We can produce metalised, anti-UV, waterproof, anti-static, cold resistance and anti-fog, frosted, heat-resistant (70ºC), double side matte sheets and films.
| | |
| --- | --- |
| MODLE | SY- P100N |
| THICKNESS | 0.15-3.0mm |
| WIDTH | 50mm-1250mm |
| Form | Sheet / Roll |
| COLOR | Transparent , Opaque and Customized |
| CERTIFICATION | ISO9001, REACH, ROHS, FDA, EN71, Phthalate free |
| Material | Virgin grade |
| Methods | Extrusion and calendering |
Features of SUNYO PVC plastic films and sheet
Difficult to ignite
Resistant to aging
High impact strength
No water marks
Virgin Granule
Delivery on time
Featured plastic PVC film products of SUNYO Plastics
What is plastic PVC material?
PVC material, also named Polyvinyl Chloride, is a popular and widely used synthetic material nowadays. PVC material contributes to second highest consumption among all synthetic materials. It has great impact to our daily life. The price of plastic PVC material is relatively affordable for every person. Adding appropriate amount of plasticizer, we can get a variety of PVC film or sheet of different rigidness, softness and transparency.
Physical properties:
The heat distortion temperature of PVC sheet/film is 70 degrees. The tensile strength of PVC sheet/film reaches 61MPa in the longitudinal direction, and 61.7MPa in the transverse direction. Thickness tolerance is -2.9% to 0%.
Chemical properties and composition
PVC sheet or film is actually a vinyl polymer, which is a type of amorphous material. In addition to base resin, we often mix with some additives, such as stabilizers, lubricants, auxiliary processing agents, pigments, impact resistance agents and so on. This will help PVC sheet get special features of non-flammability, high strength, weather resistance and excellent geometric stability. What's more, PVC material is very resistant to oxidizing agents, reducing agents, and strong acids.
Production of PVC film and sheet
There are mainly two methods of producing pvc film: extrusion calendering and casting.
Extrusion calendering is the most method, SUNYO company use to, make frosted and matte surface PVC sheet and Roll.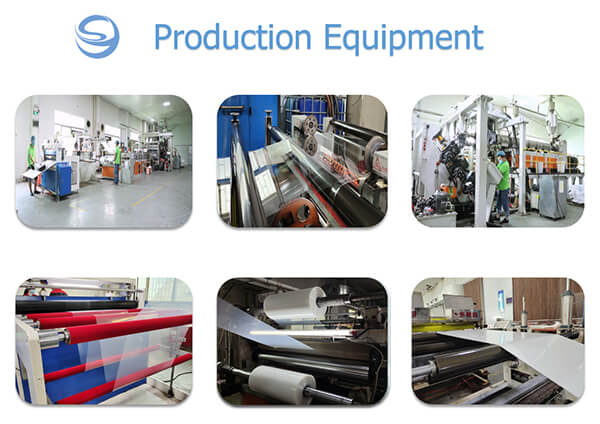 Soft vs Semi-rigid PVC film
PVC sheet or film can be classified into two main groups: soft and semi-rigid. Market demand for semi-rigid PVC film or sheets reaches almost two third. Therefore, SUNYO Plastics focus its energy and resources on development of new types of semi-rigid plastic PVC products. And the future market share is expanding rapidly.
Soft PVC sheet is generally used for tablecloths, non-slip mats, and bags. Because soft PVC sheet or film contains softeners, it is easy to become brittle and difficult to store. This limit its application scope.
Rigid PVC does not contain softeners. It is flexible, easy to form, not easy to be brittle, non-toxic and pollution-free. It has a long storage time, high temperature resistance, not easy to melt. It is printable, and has good inking effect. It is of great value and massive applications. Building and electronics use 60% of PVC plastics film and sheets. Many packaging industries also consume a great deal of PVC material. There are also quite a few applications, like folding box stationery, laser cutting, and partition boards and so on.
PVC films and sheets applications
1. Foldable sheet and film for folding boxes – high resistant, water-proof, and printable
PVC folding boxes are widely used in retail packaging sectors, like cosmetics, gifts and tops packaging. Our PVC folding film features strong impact resistance, good printing effect and scratch resistance. The film or sheet is coated with electrostatic protection film.
Transparent and translucent folding boxes are the most common products, which customers often buy from SUNYO. We can provide special treatment service: cold resistance, scratch resistance, etc. Our PVC folding sheet is popular in Southeast, Asian and South Asian countries such as Vietnam, India, Myanmar..
PVC Blister containers are quite suitable to pack cosmetics, digital or electronic products, high-end gifts, eggs, chocolate, medical, and so on. The appearance of PVC vacuum forming package is appealing. The touch feeling is nice and colors are diversified.
3. PVCsheet and film for printing – high resistant, light weighted, fire resistant
Plastic PVC printable film and sheet are suitable for screen printing, inkjet printing and UV printing. Inkjet printing PVC sheet film could be customized. It is printable and foldable. This type of film has a special coated surface, which can be quite easy to print on, directly by printers.
SUNYO PVC films and sheets have meat requirement of REACH, ROHS and FDA. Quality is guaranteed. Available colors are white, gold, silver or customized. For sizes, A3, A4 of 0.15-0.3 mm in thickness is common size. In addition, we also provide transparent overlay with glue. Our films are often produced into VIP cards, name cards, craft works, and etc.
4. PVC sheet and film for stationery – bendable, high resistant, high definition
PVC foldable for stationary is of high transparency or bright colors. It has bright surface luminance, smooth surface, and uniform thickness. Folders made of PVC sheet/film are also very easy to print.There are so many applications of PVC sheets/film in the stationery fields, like file hangings, book covers, and even soft rubber sleeves. SUNYO has long-term cooperation with many stationery suppliers.
5. PVC sheets for laser cutting
For laser cutting, we usually suggest use rigid or semi-rigid PVC film, which has no obvious water marks, or lines, and has great toughness. They are usually cut into billboards, road and fire signs, which are used in shopping malls, exhibitions and offices.
6. PVC sheet for partition board
PVC partition board acts as a very important safe guard in public places, especially during the current severe pandemic. It is proved to be useful and effective. They are often used in bank receptions, hospitals, restaurant and working areas. This type of PVC sheet is moisture-proof and impact resistant. We have a variety of color choices and also offer color customization service.