High Performance SUNYO GAGPlastic Film in Roll or Sheet
What GAG film roll or sheet SUNYO plastics offer?
SUNYO Plastics offer high performance GAG plastic films in sheet and rolls. Our GAG films have great resistance to UV light, color stability; scratches resistance and anti fingerprints, it is moisture and moth proof. We also offer customization on colors and sizes. GAG decorative film is directly laminated on the MDF for furniture decoration, like on kitchen cabinet, door board, wardrobe, cloakroom cabinet, furniture, bathroom cabinets, commercial decoration, office table, wall panels and so on.
UV light resistant, stable coloring
SUNYO GAG decorative film has good anti UV performance. Even under the exposure of strong light for a long time, its color will not fade easily. Its color of GAG film on furniture decoration will stay for at least 6-10 years. GAG decorative material extends the service life of cabinet, wardrobe to a great extent, reducing the cost of unnecessary replacement.
Scratch and fingerprints
With special hard coating treated, GAG film surface can reach 2H grade. It can effectively reduce the variety of scratches in daily life. Decorative GAG film is divided into high-gloss GAG decorative film and skin-feeling GAG decoration film series. SUNYOPLASTICS GAG film has a good anti-fingerprint performance and is not easy to dust, which makes it easier to clean surface.
Moisture-proof & Moth-proof
GAG Decorative film/sheet is extremely waterproof. It has excellent moisture-proof function, even if you are in a rainy and humid weather city. SUNYOPLASTICS GAG decorative materials can protect your furniture surface from humidity damage. It can also protect your furniture from moths such as termites.
Customization Service
The colors and sizes customization of GAG film is available at SUNYO. We have more than 25 kinds of normal hot-selling colors, to meet the needs of different markets. We also can customize speical colors for customers according to Pantone color card.
The thickness range of GAG decorative film is from 0.3mm to 1.0mm.
The width range of GAG decorative film is from 100mm to 1550mm.
As long as the size is within our maximum size, SUNYOPLASTICS can do custom cutting and rolling.
| | |
| --- | --- |
| THICKNESS | 0.15-3.0mm |
| WIDTH | 50mm-1500mm |
| Form | Sheet and roll |
| COLOR | Transparent , or customized |
| CERTIFICATION | ISO9001, REACH, ROHS, FDA, EN71, Phthalate free |
| Material | Virgin grade, A grade |
| Methods | Extrusion |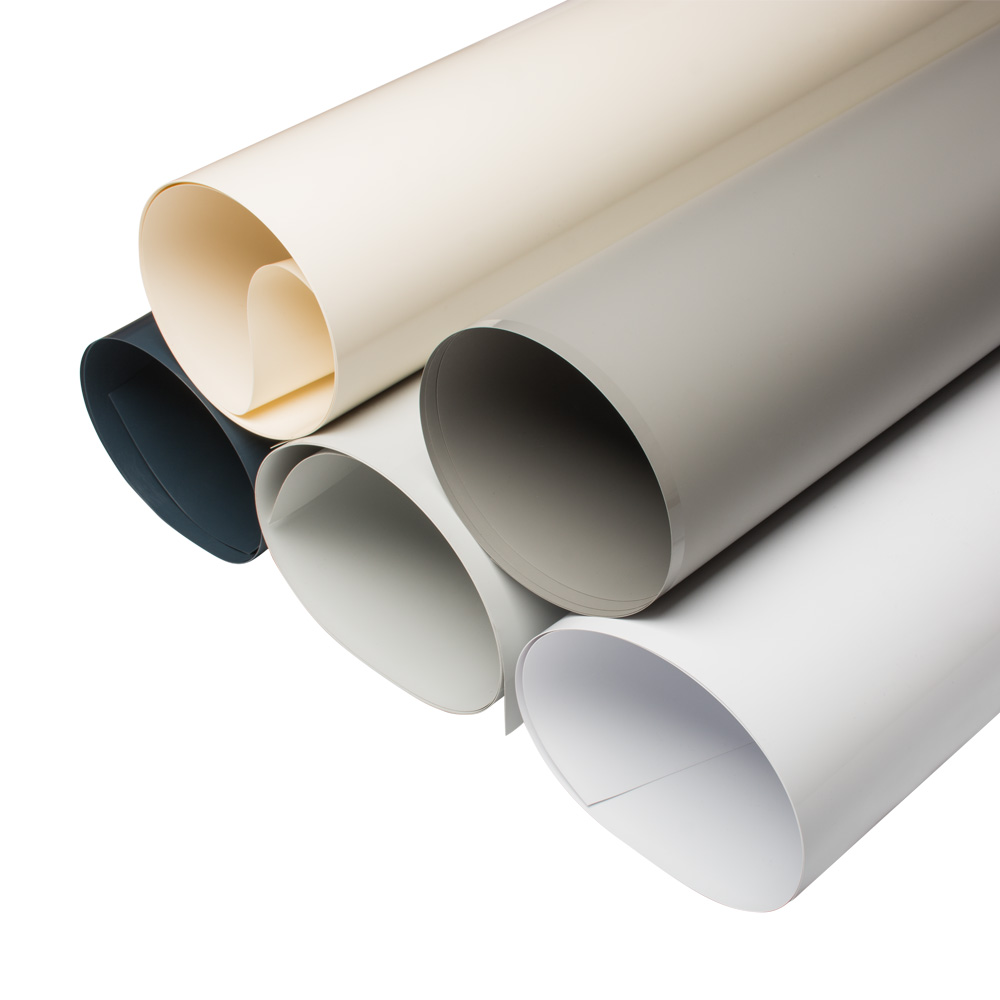 Features of SUNYO GAG plastic films and sheet
Easy to cut, no edge crack
Advantages of decorative GAG film/ sheets:
1). Good impact resistance
GAG film/ sheet material is hard and durable, suitable for applications with high impact resistance.
2). Easy to cut, no edge crack
GAG film and sheet has good toughness and is easy to cut. Even if you just cut with scissors, there will be no rough edges. Therefore, it is also the ideal material for edge banding.
3). Easy to process
There are many processing method for GAG film and sheet, such as sawing, die cutting, drilling and laser cutting, as well as cold bending and hot bending, bonding, welding and polishing, printing and coating.
4). Environmental friendly
GAG film can sheet can be recycled and used without polluting the environment.
What is GAG film?
GAG film/sheet is a three-layer co-extruded film or sheet. PETG resin and APET resin are co-extruded according to appropriate ratio. The middle layer is made of APET material. The top and bottom layers are made of PETG material. Through this way, GAG sheets films combine the advantages of PETG Sheet and APET sheet. It is eco-friendly and meet high environmental standards. While, price of GAG sheet and film remains lower than that of PETG sheet and film. GAG rolls and sheets are newly-invented material, with the same applications as that of PETG. Due to lower cost, it's even more widely used than PETG sheet. GAG film or sheet is often used for printing, thermoforming, lamination, decorating, heat pressing, high frequency, etc.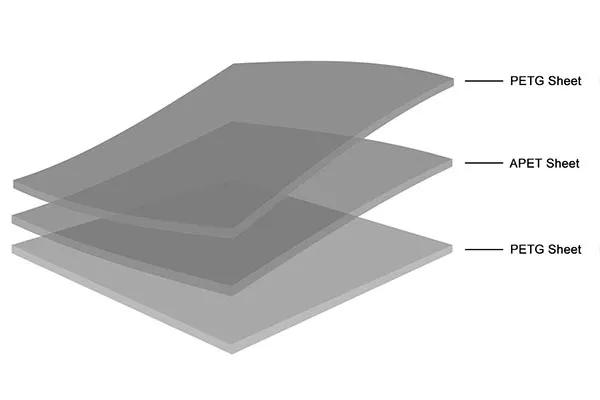 Why choose GAG film/ sheet?
1. Eco -friendly material. GAG sheet is food-grade and eco-friendly. GAG sheet is widely used for thermoforming food container
2. Excellent impact resistance. GAG sheet is much tougher than APET sheet. While its the density is smaller than that of APET Film. And its surface is softer than that of APET sheet.
3. Great heat sealing performance. GAG sheet composite material adopts multi-layer co-extrusion process. The top layers and bottom layers are PETG SHEET. PETG sheet has good heat sealing and high frequency pressure properties.
4. Lower cost. GAG cost is lower than that of PETG Sheet.
GAG sheet is manufactured through multi-layer co-extrusion. This enable composite GAG sheets both have features of PETG and APET. GAA has excellent impact resistance and heat sealing performance, as that of PETG sheet. While, as the middle layer is relatively low-priced APET sheet, its overall cost is relatively low.
APET material is one of the low-cost plastic material nowadays. The total cost of GAG sheet is competitive. And It can be applied in areas where APET sheet is restricted. This outstanding performance makes the application of GAG film in the decorative field grow rapidly.
Main applications of GAG film/sheet:for thermoformed packaging and deco
1. For plastic blister packaging:
GAG sheet and film has good ductility. It is easy to stretch and form. Thermoformed finished GAG product is not easy to deform. Therefore, GAG sheet and film roll is a good blister packaging material.
Thermoformbale GAG film and sheet is available in customized colors. Normal color of GAG blister packaging film and roll is transparent. SUNYO also offer white, black and colorful GAG film and sheet.
GAG clear sheet and film are used for food container. The most popular GAG blister package is yogurt cup lid cover. The GAG film, for yogurt cup, can be heat sealed with the layer of PE or OPP film.
2. GAG sheet with special coating for laminating and decorating
The surface of untreated GAG film is relatively smooth and easy to scratch, which greatly affects the effect of the product. In order to reduce the accidental scratching of its surface, during transportation and use, SUNYOPLASTICS have made a special hard-coating on its surface. This can protect the surface of the GAG film from being scratched.
In recent years, people choose more decorative furniture. As a new type of eco-friendly decor material, GAG decorative film roll and sheet have absolute advantage in price and quality. Its color is rich. The colorful GAG film sheet is the best choice of furniture decoration industry.
SUNYO GAG decorative film and sheets are super environmentally friendly, free from odor and easy to laminate. Laminating furniture MDF wood panel with GAG film just need high quality hot melt glue(PUR).
Check to make sure GAG film stick tightly on MDF surface, and no bubbles occurring. No matter you are a furniture supplier, MDF board processor, choose SUNYO GAG decoration film.
3. GAG decor sheet film as edge banding
Edge banding or edgebanding is the process of laminating aesthetically pleasing trim edges strips for wood panels. Edge banding GAG film is used to cover the exposed sides of such materials as plywood, particle board or MDF. This will increase its durability, and aesthetics, as well as its value.
Edge banding is a thin material used to seal the exposed edges of plywood. Heat adhesive on one side is applied to stick the wood board, while the other side acts as a barrier against dirt and moisture.
Traditional edge banding was a manual process, requiring carpentry tools. Nowadays, particularly for high-volume, repetitive manufacturing, GAG sheet strip is applied to substrate, by an automated hot-melt adhesive applying machine.
SUNYOPLASTICS edge banding GAG film is made from thermoplastic resin, and is known to be both flexible and durable. Pigments color are added in the processing of GAG decorative film, to produce tremendous options of edge banding colors, wooden textures and marble textures.